Modern Kitchens Northampton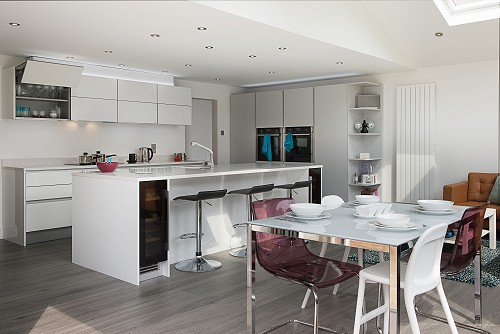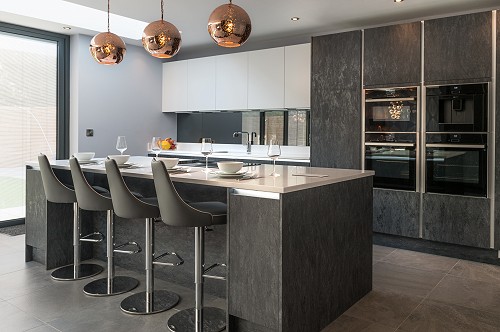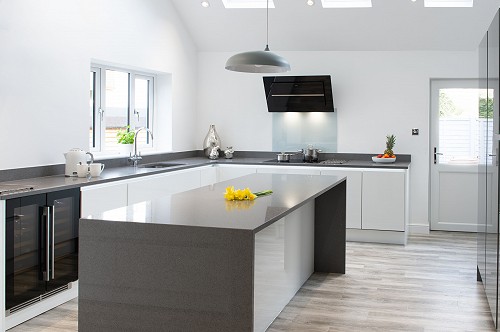 The main concept of a modern kitchen is the minimalistic designs, state of the art appliances and innovative space-saving solutions. Nowadays space is becoming increasingly sought after due to growing families and smaller homes. A modern kitchen is a great way to optimise your available space and get the most out of your storage. With a modern kitchen, you can choose each individual element from cabinets to drawers, doors, kitchen islands and furniture for a spacious and organised kitchen.
For a kitchen to be modern, there are some components which should be carefully considered.
Worktops
Your worktops can make a significant difference to your kitchen and you should research different worktop materials including their advantages and disadvantages. The idea of a modern kitchen is that it should run smoothly and be easy to clean and maintain. Therefore, you should only choose materials which are strong, durable and ideally non-porous. Popular worktop materials include Corian, Quartz and Wood which are all extremely sturdy and built to withstand many years of heavy use.
Cabinets
Your choice of cabinets should be carefully considered and you need to think about placement, space and storage. A modern kitchen should be clutter-free and minimalistic so it is vital that your cabinets do not take up unnecessary space. A great solution for this would be to choose handleless cabinets and drawers as they can optimise your kitchen space and look a lot tidier without handles poking out. Handleless kitchens are also a lot safer for families with small children as they can easily catch themselves or pull themselves up on handles. A handleless kitchen also enables you to create more storage as you can integrate your appliances and store additional kitchenware which will also free up a lot of space.
Appliances
Many modern kitchens integrate state of the art appliances such as built-in fridges/freezers, ovens, warming drawers and kitchen islands with hob tops etc. The use of modern technology can make a big difference between a standard and a modern kitchen. Your kitchen should be a place that fits around your lifestyle, it should be highly practical and easy to use.
Here at Zest Kitchens Northampton, we can help you plan, design and install your ideal modern kitchen. Using all of your unique measurements and personal requirements, we will create a kitchen which not only looks amazing but also functions to an extremely high standard.
If you would like any more information about our stunning modern kitchens, please do not hesitate to contact us here at Zest Kitchens Northampton. We can answer any questions you may have and give you expert advice about your kitchen ideas. We currently cover Northampton and the surrounding areas including Market Harborough and Milton Keynes. We look forward to hearing from you.